IT compliance and strong cybersecurity go hand in hand. Organizations in every industry are subject to third-party requirements meant to ensure that their business processes are secure and that unauthorized parties can't access sensitive information, including their customers' data. These can include:
PCI DSS (Payment Card Industry Data Security Standard): Regulates the protection of financial card information. PCI DSS applies to all entities storing, transmitting, or otherwise handling debit, cash, and credit card information.
HIPAA (Health Insurance Portability and Accountability Act): Regulates the security of medical records. HIPAA applies to all entities storing, collecting, accessing, transferring, and otherwise handling healthcare information.
FINRA (Financial Industry Regulatory Authority): Regulates the retention and security of financial data in the securities industry. FINRA applies to all registered broker-dealer firms and registered brokers in the U.S.
CCPA (California Consumer Privacy Act): Regulates the protection of California consumers' personal information. CCPA applies to for-profit entities collecting the data of California residents and meeting certain other criteria.
AICPA cybersecurity risk management reporting framework: Assists organizations in communicating relevant and useful information about the effectiveness of their cybersecurity risk management programs. A System and Organization Controls (SOC) examination under this framework scrutinizes the description and effectiveness of an organization's cybersecurity program to produce a risk management report for general stakeholder use.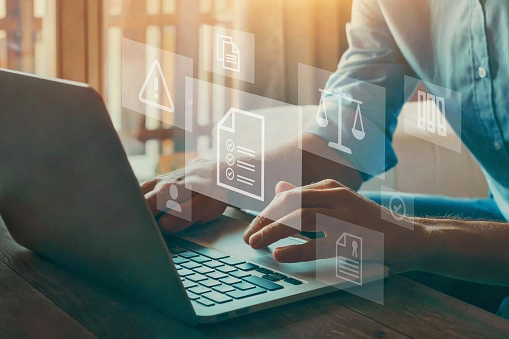 Swift Chip can help determine which compliance standards and regulations apply to your business, assess the data security measures you have in place, and determine potential vulnerabilities that must be addressed. We create an IT compliance program for your business including policies and procedures that can be effectively implemented in your organization to keep you on top of the complex requirements of evolving statutes and regulations.
A strong compliance program reduces the possibility of a data breach and builds trust between you and your customers, while noncompliance can result in fines, negative publicity, and unnecessary risk with your clients' information.
To find out more about how Swift Chip can help you meet your company's compliance obligations.